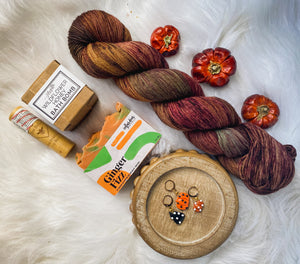 Molly Weasley Box
 Included in this box: 
✨Ginger love soap 
✨ Bath bomb
✨ Molly Wobbles yarn 
✨ Peppermint Lip Balm 
✨ Three polymer clay pumpkin stitch markers 
 
These boxes were created for moments of comfort, creativity, and self-care - all while enjoying worlds that we love or are about to get lost in for the first time.
*******************************
Yarn Info:: 
Myth Fingering 
75% SW Merino Wool 25% Nylon 
463 yards per 100(g) 

My favorite thing about this club is that all items have been made by small businesses!!
Shipping: 
This mystery box is intended to be opened the beginning of September. We will do our best to ship out at the end of August.  ☺️