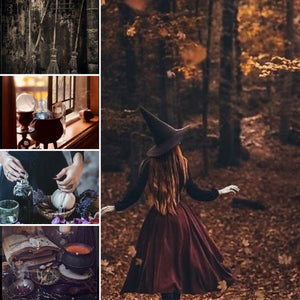 All Hallows Eve Cast On: 

** ✨NOTE:: This is a preorder, and all items purchased with this club will ship at the same time. All orders will be shipped out at the beginning of October. ✨✨

🍂🔮 Haunting Of Fairyland Mystery Cast On 🔮🍂

It's time to clean those cauldrons, embrace your inner goddess, and start casting all the spells! Or at least the equivalent of magic = casting on a new project! 
****************
In this Witching Hour Mystery Club, you will receive: 
🔮 One Witching Hour themed sock sets. (One 100(g) skein and one 20(g) mini)
🔮 Custom Halloween themed candle and match accessories. 
🔮 One custom polymer clay stitch marker 
🔮 Adorable pair of crafting scissors

My favorite thing about this club is that all items have been made by small businesses!!

This is a preorder, dyed to order item, so no refunds will be given on this kit.