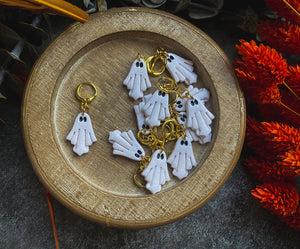 Polymer Clay Stitch Markers
Our polymer clay stitch markers are handmade and created for a purely custom magical look. Inspired by the best parts of October, enjoy these little ghosties as they add some festive decor to your wardrobe! 

We use top quality materials, but these stitch markers are still FRAGILE! They should wear just fine, but make sure not to bend or be rough with them, and store them in a safe place.  

Please note: specific coloring will vary, depending on availability. All pendants come with slight differences in attachment and placement. 


These are custom one of a kind, and will ship out during our regularly scheduled shipping timeframe, which is 1-2 weeks. 
Size: actual charm size is .75" X.75"
.