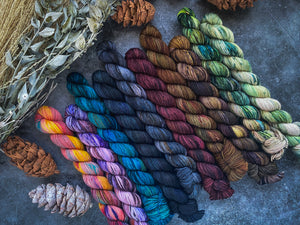 Campfires & Cryptids Mini Set 

Enjoy colorways: 
Mimic
Carnivorous Unicorn
Siren Graveyard
Howls Of A Hellhound 
Mothman Conspiracies
She's Coming For You
Don't Whistle In The Woods 
Tree Knocker
Windy Boy
River Child Beckons 
*****
colorway meanings::
✨Howls Of A Hellhound : Inspired by Hellhounds caught on tape around the world, mainly in the US and Great Britain.

✨ Tree Knocker :
Inspired by Big Foot and the other large hominid creature sightings around the world.

✨She's Coming For you:
Inspired by the Manananggal, which is an Aswang type Vampire-like creature from the Philippines.

✨ Windy Boy: Inspired by folklore from First Nations in North America, and adapted over time into other storylines and culutres.

✨ Mothman Conspiracies: inspired by all the devlish activities and strange coincidences located in Eastern parts of the US.

✨ Siren Graveyard : Inspired by All the mermaid stories at sea, and the harsh deaths surrounding many men in stories and folklore going as far back as Greek Mythology.

✨ Carnivorous Unicorns: Inspired by the Shadhavar from Persian folklore. These "pretty" beasts like to lure prey in with the music that is created by air going through the many holes and hollows in its horn.

✨Mimic: Inspired by doppelgängers from German folklore, but seen around the world. These are evil spirits that will mimic a person to get close to others, or to take over that person's life.

✨ Don't Whistle In The Woods: inspired by Skinwalkers from Dine Folklore and South American Folklore. This is one creature legend that has strong origins, but has spread across different cultures over time, and has become engrained in different stories around the world, but primarily in North & South America.

✨ River Child Beckons : Inspired by the Kappa from Japanese Folklore. These devilish little water demons love drowning and eating people, but have spectacular manners at the same time. You might just be able to trick one of them into serving you forever by out-mannering them…. Or just give it a cucumber, and maybe it will like you? 🤷‍♀️
***** 
 Myth Fingering: 
75% SW Merino Wool 25% Nylon
Mini: 20(g) 92 yards  
******
Included::
You will receive 10 20(g) minis of fingering weight yarn, all inspired by scary creature stories to tell around the fire this Summer  
 *****
Mini set will be shipped within one to two weeks of purchase! 
*
All colorways are exclusive to this one of a kind mini set only 

Washing: I always recommend hand-washing on cold for best results, lie flat to dry.

Color tone and placement very from skein to skein, due to the hand dyed nature of this yarn. Please note that before purchasing the yarn.

I try my best to take photos to accurately represent the colors but since each computer/mobile device displays pictures slightly differently, colors may differ a little in person than what you see on your screen.