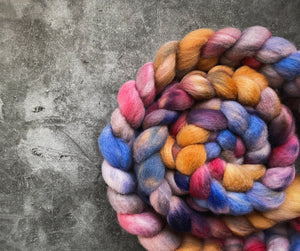 Base info:   
BFL Roving
Each braid bump weighs from 4-5 oz, but all are priced at the amount of 4 oz. 
Each color comes in a one of a kind batch with 4 other braids. These colors are not written down, so will not be repeatable in the future. 
Info:: 
Our BFL wool is 25-27 micron with a staple length of 4-6 inches, 100-115 mm. 

The sheep are never dipped and never go through museling.
Note Before Purchase: 
Color tone and placement vary batch to batch, due to the hand dyed nature of this wool. Please note that before purchasing the yarn.

I try my best to take photos to accurately represent the colors but since each computer/mobile device displays pictures slightly differently, colors may differ a little in person than what you see on your screen.
Shipping: 
All orders are shipped in the order they are received. Depending on the influx of orders per week, Please allow up to 2 weeks for orders to ship. Packages are picked up once a week from USPS only, so if we don't ship your package out the first week, know that it will be in next weeks pickup.