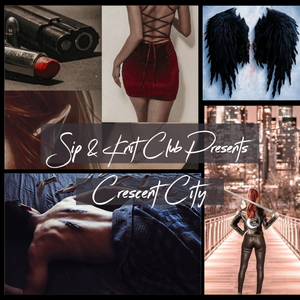 Sip & Knit Club::

** ✨NOTE:: Do not purchase any other items with this box. This specialty box only has room enough in it for this product. If other items are purchased with this box set, they will be refunded and taken off the order. (This includes other Sip & Knit products & boxes)  Thank you ☺️ 
✨ Sip & Knit Club Presents ✨

Our Crescent City, House Of Earth & Blood themed box!  

Have you read this series yet? I'm DYING!! I absolutely fell in love with this book since the day it came out, and got through the second one in about two days. 😂😂

Follow along with the main character Bryce, and the overwhelmingly intense and beautiful storyline. One of the best friendship stories I've personally ever read. 

Included:
✨ One skein Mystery yarn inspired by Crescent City.
✨ One unique custom candle.
✨ One inappropriately named custom soap.
✨Gourmet caramels.
✨ One 8pm bag of custom artisan coffee house coffee.
✨ custom Crescent City & Fire Sprite inspired stitch markers!  
✨notions 
These sip & knit mystery boxes were created for moments of comfort, creativity, and self-care - all while enjoying worlds that we love or are about to get lost in for the first time. All items were specially curated for each theme, and have been intentionally put together to embody the spirit of the book. While not all items will be brand specific to the book, they will follow the current theme, or follow the theme of "book club". 
****************

My favorite thing about this club is that all items have been made by small businesses!!

This is a preorder, dyed to order item, so no refunds will be given on this kit.
Shipping: 
This mystery box is intended to be opened end of March - beginning of April. We will do our best to ship out by mid March. 1-4 weeks total.