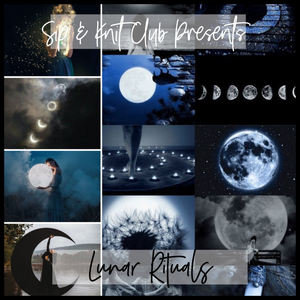 Sip & Knit Club::

** ✨NOTE:: Do not purchase any other items with this box. This specialty box only has room enough in it for this product. If other items are purchased with this box set, they will be refunded and taken off the order. (This includes other Sip & Knit products & boxes)  Thank you ☺️
✨ Sip & Knit Club Presents ✨

🌒🌓 L U N A R      R I T U A L S🌗🌘

Are any of you a moon spirit? I always feel like I thrive at night, and my mood is very determined on the weather. Since I am allergic to the sun, I tend to absolutely get lost in the beauty of the night.

This box is to help celebrate those like minded night owls with a few of my own rituals. Sip on a hot beverage while knitting with this custom colorway. Get lost in the magic of this beginner friendly embroidery kit. Light a candle and manifest positive energy in all your creating.

This sip & knit box will include::

✨ One skein of fingering weight yarn in an exclusive Lunar themed colorway.
✨ Custom gourmet artesian tea.
✨ Lunar themed embroidery kit.
✨ Specialty tea infuser mug.
✨ Lunar themed candle and matches.
✨ Custom polymer clay Lunar themed stitch marker.
 
These sip & knit mystery boxes were created for moments of comfort, creativity, and self-care - all while enjoying worlds that we love or are about to get lost in for the first time. All items were specially curated for each theme, and have been intentionally put together to embody the spirit of the book. While not all items will be brand specific to the book, they will follow the current theme, or follow the theme of "book club". 
****************

My favorite thing about this club is that all items have been made by small businesses!!

This is a preorder, dyed to order item, so no refunds will be given on this kit.
Shipping: 
This mystery box is intended to be opened the end of May.