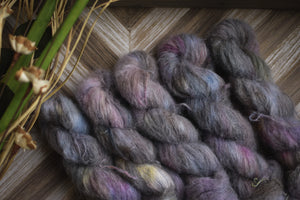 Colorway: 
Yarn Info: 
This fluffy fun base is a perfect addition to any project! Use it on its own, or hold it with a strand of another yarn to add a soft layer! I've used this base while holding it with a fingering weight in a sweater, and it has created the softest fabric with a beautiful drape. I have also substituted this base in a colorwork sweater on its own, and been shocked at how perfectly the fibers grab onto one another without changing the gauge. 

 Base info:   
Nymph Suri Alpaca Lace Base: 
74% Baby Suri Alpaca 26% Mulberry Silk
328 Yards 50 grams 
Care For Your Knits:
Washing: I always recommend hand-washing on cold for best results, lie flat to dry. This base is a non Superwashed base, and has the possibility of bleeding the first few times its washed and blocked. I suggest steam blocking for best results, or using a color catcher in the water with it. DO NOT tumble dry. 
Note Before Purchase: 
Color tone and placement very from skein to skein, due to the hand dyed nature of this yarn. Please note that before purchasing the yarn.

I try my best to take photos to accurately represent the colors but since each computer/mobile device displays pictures slightly differently, colors may differ a little in person than what you see on your screen.
Shipping: 
All orders are shipped in the order they are received. Depending on the influx of orders per week, Please allow up to 2 weeks for orders to ship. Packages are picked up once a week from USPS only, so if we don't ship your package out the first week, know that it will be in next weeks pickup.