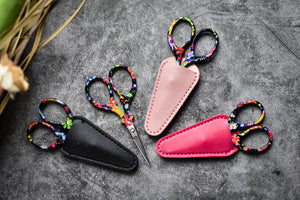 Dark & Flowery Snips
✨The perfect addition to any project bag, whether it be for knitting, crochet, embroidery..... or the pure love of little scissors!!! ✨
These 3.5" snips are perfect for snipping yarn, thread, and so much more!
They will be available for a limited time, so don't hesitate to add this little bit of dainty pleasure to your project!! 
 Each pair comes with a faux leather cover, so no poking or jabbing occurs when you fish them out of your bag!! 
Material: Metal, with brushed color coating
Ready to ship with your latest order!