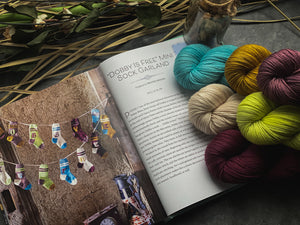 Have you just gotten your copy of Harry Potter Knitting Magic by Tanis Gray? That sensational collection of Independent designers and yarn dyers is absolutely full of magic and wonder!

This 50(G) skein set comes with enough yarn for you to play around with the order & style of the Dobby Sock Garland, designed by Trysten Molina (yours truly!).
Create your own unique collection of Dobby socks, and decorate your house this year with of bit of the Wizarding World! 

 Base info:   
Myth Fingering Base 
75% SW Merino Wool 25% Nylon
230 yards per 50(g)
Each skein is 50(g)
Colorways: 
(Note:: colorways are all the original colorways used in the Dobby Sock Garland, even though a few of them may have been renamed.) 

* Toasty
* Charmer (Formerly Heart Of Storms)
* Fairy Moss (Formerly Poison)
* Faun
* Word Marks
* House Pride
Care For Your Knits:
Washing: I always recommend hand-washing on cold for best results, lie flat to dry. This is a Superwashed base, but some bleeding may occur. I suggest using a color catcher or steam blocking. 
Note Before Purchase: 
Color tone and placement vary from skein to skein, due to the hand dyed nature of this yarn. Please note that before purchasing the yarn.

I try my best to take photos to accurately represent the colors but since each computer/mobile device displays pictures slightly differently, colors may differ a little in person than what you see on your screen.
Shipping: 
All orders are shipped in the order they are received. We are doing a bulk dye session for these preorders, so please allow 3-4 weeks processing time before being shipped out.