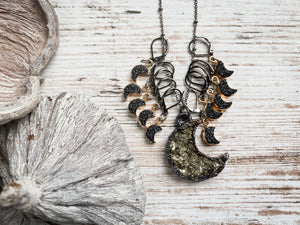 Pyrite Half Moon knitting necklace. 
Pyrite is often called "Fool's Gold," though there is nothing foolish about this mineral. Within its gleaming beauty is a stone of hidden fire, one that can be sparked to life by striking it against metal or stone.

This pyrite pendant is approximately 1.35" x 1.0" and comes on a 20" soldered gunmetal chain.
Each knitting necklace comes with the main stone, as well as ten lunar stitch markers. 

The scientific and intricate process used to add layers of lovely copper is called electroforming. This process can be unpredictable and can take hours to days to complete just one wearable. There may be small perfect imperfections in the copper and it may darken over time. Each piece has been cleansed and sealed with you in mind.

The moon is so powerful, it is responsible for moving oceans, the ocean tides and for the growth of plants, and we as humans are also affected by this powerful energy.

The moon is one of our most prominent and ancient symbols. It has shaped how we understand and track time, its movement controls the tides, and its rise into the sky signals the coming of night. It has a marked association with femininity and fertility

Please note: specific coloring will vary, depending on availability. All pendants come with slight differences in color and placement. 

The company is Eco friendly & woman owned.