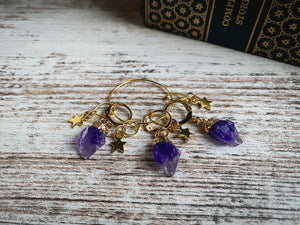 Gemstone Charms
Add some unique charm and magic to your knitting with our Gemstone Charms! Our gemstone charms are very unique, made with resin and molds, and gemstones are an exact copy of one another. 


Each set comes with 5 small star progress keepers and 4 large Gemstone progress keepers. The center of the charm is made with resin, and all charms are made with golden fastenings. 

Please note: specific coloring will vary, depending on availability. All pendants come with slight differences in attachment and placement.